If you're living under a rock, you may not know who Les Twins are. These two brother, Larry and Laurent Bourgeois, are two of Paris' premiere dancers, choreographers and models and their claim to fame is their continued work with Beyonce for her Mrs. Carter Show World Tour. To say we are in love with these two brothers is an understatement.
Must Read: Beyonce's Lead Dancer Reveals Why Bey Cut Off Her Hair [EXCLUSIVE]
Being the lucky women we are, we got the chance to take a dance class with Les Twins at Alvin Ailey American Dance Theater and that's where we learned they were completely self-taught (as in have never taken a class)! Their success story is proof that talent, ambition and humility can get you to your highest heights. Check out the video above and see what moves you can learn from Les Twins to impress your friends with. Hey–you can tell them that you're self-taught too!
Related Stories:
#GetRightGetTight: Bust A Move With Beyonce's Back Up Dancers!
HE RANG: 15 Mins 32 Secs With Beyonce's Choreographer Jeffrey Page: 'She's A F*cking Brilliant Artist'
You WILL Get Your Life At Beyonce's 'Mrs. Carter Show World Tour' & Here's Why…
Check Out This Gallery Of Beyonce's Best Hair Choreography!
Crowning Glory: King Bey's 52 Best Hair Moves
1. Do Not Try This At Home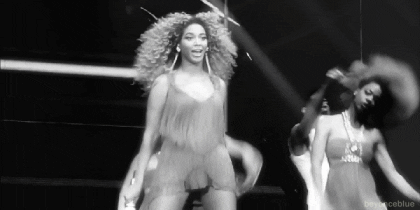 Source:
1 of 3
2. Golden Girl
Source:
2 of 3
3. Her Curls Breathe
Source:
3 of 3
#TeamBeautiful Took A Dance Class With Beyonce's Les Twins & We're In Love [VIDEO]  was originally published on hellobeautiful.com